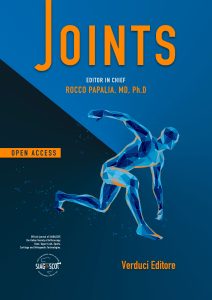 JOURNAL e-ISSN: 2282-4324
JOINTS is the Official Journal of SIAGASCOT. It aims to become a valid scientific instrument for all professionals involved in joint surgery and sports medicine, to improve their skills and update their scientific knowledge.
The journal is supported by a distinguished international Editorial Board, and assisted by an excellent Advisory Board, in order to ensure the highest standard of scientific quality. 
The mission of JOINTS is to promote education, innovation and communication in the national and international community of orthopedics and other professionals that work in the field.
The topics covered within JOINTS include all aspects of joints disorders and related treatments, including epidemiology, clinical and instrumental diagnosis, treatment and prevention. The main topics are:
• Ankle
• Current Concepts
• Elbow
• Guidelines and surveys
• Hip
• Knee
• New Technologies
• Ortobiology
• Osteotomy
• Patellofemoral Joints
• Rehabilitation
• Shoulder
• Sport Medicine
JOINTS has a continuous publication frequency. Fees of publications and instructions for submission are explained within the Instructions for Authors.
JOINTS considers for publication the following types of articles:
• Original Articles
• Brief Commentaries
• Narrative Reviews
• Systematic Reviews and Meta-Analyses
• Case Reports (of particular entity and interest)
• Editorials
• Letters to the Editor
• Case/Photo Quizzes
•Clinical Trials
If authors are unsure whether their manuscript falls within the scope of JOINTS, they should contact the Journal by e-mail (submission.joints@verduci.it) for an opinion before submission.